Frequently Asked Questions (FAQ)
Follow these steps to place a booking with us:
1) Login to your account.
2) Choose "Send a Parcel" from the side menu.
3) Select your desired service type (pickup or dropoff).
4) Enter the sender and recipient particulars. Save your frequently used addresses in the Address Book for easy access in the future.
5) Enter your parcel details and click "Add New".
6) Once you're done, click "Place Booking" to proceed to your Booking Cart or the Checkout page.
You can contact us in the following ways:
(a) Phone line: +6012 429 8650
(b) Email: enquiries@xendnow.my
Please note our working hours are Monday-Friday, 8.00am-6pm. Saturday, 8am-12:30pm
If you are sending a bulky, long or heavy parcel, you are required to check Volumetric Weight and Actual Weight of your parcel to avoid additional charges and delay in the shipping.
For example, if you are sending a bulky shipment:

We will charge you according to whichever weight is higher.
---
Special Handling Charge applies to the following:
1. Odd-sized packages (such as rounded or triangular packages) and the parcel exceeds 150cm in any single dimension.
2. Compulsory chargeable items such as hamper, perishable food, frozen food, live animal, etc.
3. Volumetric weight formula: ( Length(cm) x Width(cm) x Height(cm) ) / 5000 kg.
4. Chargeable weight will be based on actual physical weight or voulmetric weight, whichever is greater.

Deliver with total peace of mind. We provide a more flexible solution that caters to your needs.
Our Special Handling Service Features are as below:
1. Preferential handling for your parcel.
2. Additional care for your parcel such as a dedicated area for special handling parcels during pickup, drop-off, on the linehaul, at the transit hub, and last mile delivery processes.
3. Your parcel will be marked with a "Special Handling" sticker so that our dispatch team prioritizes the parcel during delivery.
Our Special Handling sticker: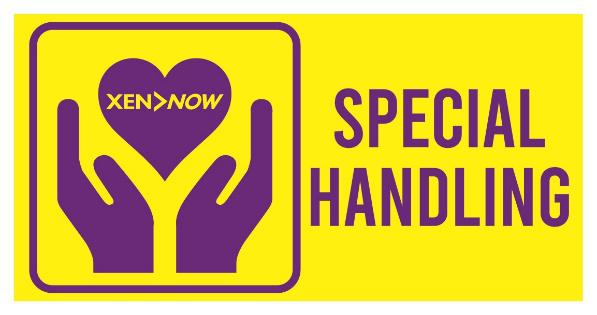 Please note that the conditions below are under No Liability:
1. If the outside packaging is intact, any claim for damage to the consignment will be invalidated as the internal packaging fillers would not have been sufficient to protect the product inside.
2. XendNow shall not be liable for any direct or indirect costs and/or damages or loss of the items if the appearance/ surface of the package or label is not damaged.
3. XendNow was able to Deliver on Next Day & provide Clean POD.
4. XendNow shall not be liable in any manner whatsoever for the death of life animals if XendNow was able to Deliver on Next Day & provide Clean POD.
5. XendNow does not provide temperature or humidity control, it will be dependent on the surrounding conditions inside and outside the truck, at the hub or in transit. Such commodities susceptible to change of temperature will be accepted for transportation solely at the sender's risk for any damage arising from the transportation.
---
Please check the parcel status through XendNow website, below parcel status are under Not
Liabilities:
a) Shipment status such as receiver not at home
b) Incorrect delivery address
c) Failed to contact receiver
d) Refusal of a person to accept the delivery
e) The package is returned to the sender
f) Signature or POD was provided for the package
If you have confirmed that the parcel status is not under the ones mentioned above, please send an email to our customer service (enquiries@xendnow.my).
Yes, only up to 30kg per carton for Money Back Guarantee service.

XendNow will acknowledge receipt of the evidence by notifying the customer within 3 working days via phone call or email.
Please see the below refund policy table for Money Back Guarantee.
| Next Working day | Day 1 | Day 2 and above |
| --- | --- | --- |
| Not Applicable | Waive Shipping Charges | Waive & Refund the Shipping Charges |
Only one refund or credit is permitted per consignment note. In the case of multiple shipment, Money Back Guarantee will be applied to one consignment note (based on invoice value) and the maximum amount to be refunded is RM200 per consignment note.
Unfortunately, no. Shipments that are suspended are not under XendNow obligation.
---
We accept FPX for online payment; Credit and Debit Card (Visa and Master Card) as well.
Yes, you can make payments via Bank Transfer. Please follow the instructions below for a hassle-free experience:
1. Please bank in your amount to Xend Sdn Bhd, bank details are as below:
Bank: United Oversea Bank
Bank Account: 145 302 205 1
2. Please proceed to our website - TopUp XendCredit Package and select Internet Fund Transfer.
3. State your topup amount.
4. Key in your reference number and state the transaction date and time.
5. Lastly, upload your bank-in slip.

We will top up your credit into your account once the payment has been verified by our finance department. Please note that we require 1 working day for the verification process. We advise that you keep the payment slip for future reference.
---
Kindly print out the E-CN sticker and paste near the top right corner of your parcel.
Yes, you can cancel by making a phone call (012-4298650) or email to enquiries@xendnow.my. Cancelation service is requested before 2pm the same day.
---
Kindly enter your consignment note (CN) number into the
Track My Parcel
search box on the home page. You can also ask our customer service at 012-4298650
Generally speaking, that would mean delivery should be made to you on that day sometime between 8.30am and 6 pm.
Our courier personnel will try to contact you immediately. You can ask him to leave your parcel in your mailbox or with your neighbor. Please note, if you cannot be contacted, the delivery status will be updated as "No Receiver" and delivery will be attempted again the following working day.

Additionally, please call customer service and request a more convenient delivery time or choose to pick up your shipment from our station.
---